FREE Aus Shipping on orders over $99

Or flat rate express

FREE Int'l Shipping on orders over $125

Or flat rate express

Zero Concern Returns

Hassle-free returns & exchange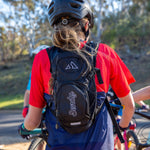 Kids Hydration MTB backpacks
Shop our range of kids hydration backpacks and bags to keep cool while you ride your bike. Sendy kids are smart and fearless and know that to conquer the dust you need to stay hydrated with the Sendy H2O Back Pack. Built to be compact and comfy for the sendiest riders, the Sendy H2O will keep you hydrated for hours in the saddle. It will also give you space to stash some snacks, a pump and a spare tube. Fill with water to stay hydrated when cycling or fill with your favourite hydration drink to MTB all day.
Read More
Kids Hydration Packs Range
We all know the importance of staying hydrated, and it is especially important when your kids are mountain biking. Staying hydrated has never been easier with our kids' hydration backpack that allows them to drink even when on the go.
Sendy Gear has mountain biking equipment that has been designed with kids in mind. As a result, you can look forward to having clothing and accessories that are durable, practical, and of course, cool.
Buy Compact and Comfy Kids Hydration Packs From Sendy Gear
If you are looking for a kids' hydration pack, Sendy Gear has one that is perfect for your kids. If they want to stand out from the crowd, they can choose a colourful design, or they could have one that blends in with the rest of their mountain biking gear.
Your kids can choose to fill their pack with water or another drink of their choice. With its easy-to-use design, your kids are sure to keep themselves hydrated throughout their ride.
Our bags feature a 1.5-litre bladder giving them enough hydration without being overbearing to wear. Our bladders are BPA free, so you can be confident that it is safe for them to drink from.
Keep Your Little Shredder Hydrated with Sendy Gear
These bags are not just great for carrying their water. As well as the internal pocket where their bladder and any spares can be kept, such as a bike pump, they also have a smaller pocket. This is perfect for keeping their phone and snacks in, and you can be reassured that you can reach them and vice versa should they need to. What is more, there is an external expandable stash zone, which is great for keeping a jacket inside and let's face it, sometimes the weather can be unpredictable.
You can also get a 'Sendy Squirter' water bottle in the mini or maxi size. These are perfect for stashing in their bike's water bottle holder or simply a great way to stay hydrated throughout the day when they are at school.
Get Your Kids Hydration Pack Online in Australia
Our kids' hydration backpack has been designed in Australia and inspired by the Snowy Mountains where we love to take our kids riding. As our gear is specifically designed for kids, it can withstand their destructive ways.
You can get your kids' hydration backpack online and have it delivered anywhere in Australia and New Zealand for free when you spend over $80. If you live further afield, that is no problem, and we offer free international shipping when you spend over $125 or a flat rate express.
When you buy from us, you can also feel good about helping the environment and others. We see nature as a natural playground, and we do what we can to help to protect it, including using 'The Dirt Bag' compostable delivery satchels for a greener way of getting your goods to you.
If you have any further questions about our hydration backpacks, our Sendy Dream Team would love to help. We have a live chat available, or you can email us at jono@sendygear.com. From backpacks that are practical and stylish to kids MTB shorts that have all the features, kids MTB gloves and MTB gear, socks and even a casual range – you will find exactly what you need right here. 
Read Less