FREE Shipping On All Orders

Limited Time. Or flat rate express

Save 10% Off Your First Order

Sign up and join our crew

Zero Concern Returns

Hassle-free returns & exchange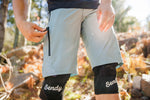 Adults MTB Shorts
Mountain Bike Shorts
When it comes to creating mountain bike shorts, at Sendy Gear we knew that we needed to find the perfect blend of stretch, comfort, and technical design to make them perfect for use by kids and adults. We love our shorts; we use them all the time – and we know that you will love them too. Read More
Now, we have jerseys, shorts, gloves, socks, hydration and protection options for both kids and adults that are designed specifically for use on the trail – and that is what makes us different. We live our passion for the mountains, all our gear is designed and tested in and around Thredbo (our home) and we like nothing more than being together, as a family, discovering the world.
How To Choose The Best Mountain Bike Shorts For You?
Listen, not everyone can be an expert on how to choose the right shorts for mountain biking, but that's why we are here! It can be a little overwhelming when you're faced with so many cool and stylish options, but there are just a couple of things to look out for that will ensure you invest in the best MTB shorts Australia has to offer.
Check out our handy tips on the most important aspects to consider when you're finding the right pair of MTB shorts online in Australia for every ride.
Inner Or Outer Shorts?
At Sendy Gear, we really don't think it should be a choice of either-or. The baggier MTB shorts don't usually come with padding and unless you want it to feel like you ride horses for a living, we suggest getting both. Invest in some high-quality padded MTB shorts to ensure that your precious bits are well protected and then pop on a pair of MTB shell shorts for extra comfort and style.
Make Sure Your Shorts Are Adjustable For Comfortable Mountain Biking
Even if your shorts for MTB fit you like a glove, it's still super handy to be able to adjust them. Make sure you find some shorts with an adjustable waist mechanism, such as velcro pulls. Of course, having them on the outside is going to be a lot more comfortable and convenient than having them on the inside. These adjustable straps come in handy especially if you've had a particularly indulgent weekend and need to ride off the extra 'fun' that you accumulated.
Pockets
We would all like to hit the hills with as little as possible, but the reality of the situation is that you're probably going to have keys, maybe a wallet, your phone and a snack when you do. This is what makes having pockets on your mountain bike shorts so important. You also have to make sure that they zip up too, as you don't want your phone rolling off a mountain somewhere!
Fit
When it comes to cycling shorts, nothing is more important than having a comfortable fit. You don't want to wear something that's going to restrict your knees while trying to peddle up a massive uphill or a pair of shorts that won't allow you to put on the all-important MTB knee pads underneath. Our 4-way stretch material makes our shorts incredibly comfortable for even the most exhausting trails.
Fly & Press Button
Sometimes nature calls and you may have to make an unexpected pit stop on your route and there's nothing worse than having to squeeze a pair of shorts off and undo the adjustable straps for just a few minutes. Make sure the MTB shorts you buy have either a velcro strap or a zip fly, as well as clip buttons for easy on and off movements.
Style
While practicality and comfort is the name of the game when it comes to mountain bike shorts, that doesn't mean you should compromise on looking good in them. Choose shorts that are fun, funky and suit your personality. You can also pair them with our wide range of MTB jerseys for a total MTB outfit. When you look good, you feel good and that applies when you're sending it on the gnarliest downhill too. Check out our range of kids mountain bike shorts to enjoy the rides with your little ones.
The Ultimate Shorts Designs for Mountain Biking At Sendy Gear
Sendy Gear have the best range of MTB shorts in Australia, partly due to our eye-catching designs, but mostly because we have spent time making them technically superior. All our shorts come with 4-way stretch – ease of movement is guaranteed
Keeping valuables safe while you ride is easy with two fully zippable side pockets – with zips made by YKK Zippers, who are arguably the best in the world. Adjustable super strength Velcro tabs and a press button closure help these shorts to fit comfortably.
Riding is no fun if you get saddle sore – so that is why we suggest you pair our shorts with the Send It Comfy Padded MTB Knicks. A poly/spandex blend makes these a lovely pair of undershorts, and the elasticated waistband and silicone thigh grippers make sure that they don't move around. Our knicks are padded with ultra-comfy absorbing foam flexing and stretching with your movement to add comfort to every ride.
Check out our size guide to get the best fit – for adults, we suggest that you buy a size larger than you normally would as our shorts do tend to come up a little slim in the waist. Whatever your style we have the perfect pair of MTB shorts for you – and with matching mountain bike jerseys available, you can easily pair them – or match with each other!
The Mountains are Our Home, Make Them Yours with Sendy Gear's MTB Shorts
Our heart is in the mountains, and we protect the areas we love. Here at Sendy Gear we do that by not only working with our suppliers to ensure that we are only receiving sustainable and ethically produced materials, we also make sure that we give back.
This means we donate a portion of our earnings to causes that protect the planet for the future and for our children. We want to keep the planet fresh, so we minimise the use of plastic where we can – we even deliver Sendy Gear in compostable postbags! We believe that mountain biking is for everyone, and we are always keen to support the growth and development of mountain biking throughout Australia. We have created a fund to support individuals and groups that are looking to build tracks – so if you want to get out and explore the local countryside, contact us to see if you could get some financial support from Sendy Gear.
We want you to have the best experience while you ride those trails – and that is why we are confident that we have the best MTB shorts available online in Australia, Shop with us today and discover why Sendy Gear are different.
Sendy Gear is made for the trails – and if you love the outdoors and tearing up and down the mountains on your favourite pushy, then Sendy Gear is your number one choice for mountain bike shorts in Australia. We also stock a great range of long sleeve MTB jerseys, MTB knee pads & MTB gear in Australia. Shop with us today and get ready to tear up those trails.
Read Less