FREE Shipping On All Orders

Limited Time. Or flat rate express

Save 10% Off Your First Order

Sign up and join our crew

Zero Concern Returns

Hassle-free returns & exchange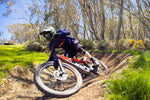 Adults MTB Protection
MTB Protective Gear Australia 
If so, you will be in need of some MTB protective gear to protect them when they have a fall or an accident. Sendy is just the place for you to purchase your children's protective gear from, as we are a company that makes kid-specific mountain bike gear. Not only do we have protective gear for kids, but we also make it for adults as well. It shouldn't just be adults that can have fun on Australia's Snowy Mountains; families should be able to have fun and experience the thrill of mountain biking together with protective gear made to keep them safe. Read More
Do You Love Mountain Biking with Your Kids?
Sendy is an Australian company that specialises in kid-specific mountain bike gear. We take inspiration from our home in the Snowy Mountains, ensuring that our designs are always practical, pure, and on-point. Sendy was created because, as a family of 4 who loves getting outdoors to ride, ski, and travel, we couldn't find any shred threads for our kids. One year and tons of work and testing later, Sendy was born, creating quality constructed mountain biking gear for both kids and adults so that families can experience the joy and thrill of mountain biking together. 
Why You Should Buy MTB Protective Gear from Sendy Gear
Sendy Gear is the only Australian company that creates products directly for kids, youths and adults at affordable prices. Our high-quality mountain bike gear has been created so that both adults & kids alike can safely experience the thrill of mountain biking. All of our protective gear has been designed and tested in Thredbo, which is Australia's mountain biking mecca, so you can be sure that they perform well. Our products are also made out of materials that everyone will find comfortable, with moisture-wicking, quick-dry, and breathable properties.
Sendy products are affordable because we cut out the middle person. We take our products straight from the manufacturer and directly market and sell them to our awesome customers.
If you think that is great, you'll also be impressed with our dedication to utilising green strategies wherever possible. We love our outdoor playground and want to ensure that we do everything that we can to preserve and protect it for future generations to come. 
High-Quality MTB protective gear in Australia Available At Sendy Gear
Everyone should be able to try out mountain biking with affordable mountain bike gear that has been designed to be tough enough to withstand all different types of  conditions. Nobody should have to worry that the products they are buying will negatively affect the outdoors that they love so much. That's why Sendy's products are sourced from manufacturers who have eco-friendly accreditations and follow strict guidelines to be green. Even our postage bag packaging is fully compostable.
At Sendy Gear, You will also find MTB clothing including MTB jerseys, MTB shorts & accessories & even more. Find out more about Sendy on our website, and if you have any questions, reach out to the Sendy Dream Team via our live chat anytime.
Read Less