FREE Shipping On All Orders

Limited Time. Or flat rate express

Save 10% Off Your First Order

Sign up and join our crew

Zero Concern Returns

Hassle-free returns & exchange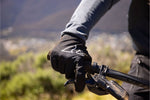 Adults MTB Gloves
MTB Gloves
No matter what age you are, mountain bike gloves can help you to stay in control of your bike and remain comfortable throughout your ride. At Sendy Gear, we are committed to bringing your practical and on-point mountain bike gear that helps you get the most from your mountain biking experience. With ranges for both adults and kids, we have everything you need to enjoy the great outdoors and all that it has to offer. Read More
Ride in Comfort & Style With Our MTB Gloves
Our Mountain bike gloves have been inspired, designed, and tested in the mountainous ranges in Thredbo, Australia, which has excellent mountain biking trails. You can be sure that our gear is up to whatever you want to throw at it, so go ahead and shred down those mountains.
Sendy MTB gloves offer you an excellent grip on your handlebars, all with a stylish design. They feature a single layer durable leather palm for extra grip. This also gives your hands protection and cushioning from gripping your handlebars.
Complete with a 2-way stretch and Velcro fastening, as well as coming in a variety of sizes, you will be able to get a great fit for your gloves so that you can get the most from your mountain biking. They also offer you further protection should you fall from your bike. Gloves can prevent your hands from becoming scratched from the undergrowth, so they are essential when you are riding.
What is more, when the weather is not on your side and it is cold, wet or windy, our gloves can protect your hands from the elements, meaning that you can stay out for longer and shred those trails.
Sendy Gear: High-Quality & Affordable Gloves for Mountain Biking in Australia
Enjoy mountain biking to the full with MTB clothing, including MTB jerseys, MTB padded shorts, long sleeve MTB jerseys and accessories from Sendy Gear. With products that are made to last and withstand extreme mountain biking, you can look forward to having an affordable range of products that lets you do what you love.
Directly purchase our MTB gloves online in Australia. When you spend more than $80, you can benefit from free delivery throughout Australia and New Zealand or our flat-rate express. We also deliver worldwide, and this is also free when you spend over $100.
Why Gloves Are Essential For Mountain Biking
It wasn't that long ago that MTB gloves in Australia were seen as a mere fashion accessory. In fact, some suggested that you weren't even a proper rider if you did wear them. All it takes, however, is a gnarly wipeout on a trail and leaving more knuckle skin on the ground than you have on your hands to realise that they are perhaps a little bit more than that.
Some people still won't wear MTB gloves but they are more or less regarded as an essential piece of gear to most now and they are particularly important when it comes to teaching little rippers how to own the trails. So, what do mountain bike gloves actually do and why are they such an important piece of gear? Let's find out:
Protection
First things first: The most essential aspect of any MTB gear is their protective element and it's no different when it comes to MTB gloves. There are a couple of different ways that gloves for MTB will protect your hands when riding.
The first of these is from the general wear and tear that any rider gets over a long period of time: Calluses, blisters and tingling. Gloves are made with padding and other layers that help to protect hands from these everyday issues that all riders have struggled with before.
Then there's the skin-saving protection. If you've ever come off your bike, which we're sure is the case, then chances are you've left a bunch of skin somewhere in the mountains never to be seen again. Gloves help to absorb shock and protect knuckles and hands from vegetation, rocks and road burn when you inevitably come off.
Last but not least, we have some of the strongest UV rays in the world in Australia and gloves help to protect your delicate hands from sunburn. Admit it, how many times have you forgotten to put sunscreen on your hands? Pretty often probably and gloves mean that you don't ever have to remember it again.
Improved Grip
Your handlebars can become as slippery as a wet bar of soap if your hands are sweaty or you're riding in the rain. This increases the chances of you letting go of the bars and having a gnarly wipeout. MTB gloves are made with a special material to ensure that you are able to grip the handlebars in the most optimum way.
Temperature Control
If you've ridden on a really cold morning or night, you'll know that your fingertips are the first to feel it. They become numb and tingly and this makes it extremely difficult to grip properly. On the other hand, sweaty hands are also not ideal. You can choose different gloves for different weather; cold weather gloves keep your hands warm and fully functioning, while hot weather gloves will usually have a mesh-like material that soaks sweat and improves breathability.
Style
The best thing about buying MTB gloves online at Sendy Gear is that we have some pretty sick style options to choose from. Whether you're going for straight out black or you want something bright and cheerful—we've got gloves of all kinds—to suit any style. You can also shop our range of MTB jerseys and MTB shorts to get ready for your next ride!
Mountain Bike Gloves for the Great Outdoors in Australia
We are proud to be a company that is green and giving. We use manufacturers with eco-friendly accreditations such as Oeko-tex certificate, Blue Sign and Organic cotton certificate. We also avoid using plastic packaging to send your goods. Instead, we opt for 'Real Dirt Bags', which are fully compostable and lets us do our part in protecting the environment.
At Sendy Gear, we also love to give back. A percentage of our profits are used to give back to the community in outdoor-based activities. We see the huge benefits that the outdoors can bring, and we want more people to enjoy them.
Shop with us today for adults MTB gloves & kids MTB gloves to experience the Sendy Gear difference with equipment that is designed to be used on your rides.
Read Less