FREE Aus Shipping on orders over $99

Or flat rate express

FREE Int'l Shipping on orders over $125

Or flat rate express

Zero Concern Returns

Hassle-free returns & exchange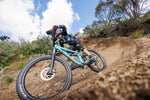 Kids MTB Shorts
Sendy
Kids MTB Shorts
are designed for kids who go hard on their bikes and love to send it. We know you live to ride your bike, so we have created these children's mountain bike shorts to suit your Sendy lifestyle whether you are cycling to school or bustin' down the trail on your mountain bike. We also stock
Kids Padded MTB Shorts. 
Read More
Kids & Youths MTB Shorts Range
Sendy Gear has created mountain bike shorts for kids who love to race down trails on their mountain bikes. High quality, durable shorts should be available to everyone, which is why we have created high quality, affordable shorts, sourced from ethically responsible manufacturers so that everyone can have the chance to be properly kitted out when they try out a gnarly mountain bike trail.
High Quality Mountain Biking Shorts At Sendy Gear
Sendy was created by a former professional Alpine racer, who, as part of a family of four, loves to ride, ski, and spend time outdoors. When we tried to find mountain bike gear for our kids, there was not much on offer. We saw an opportunity to create quality, affordable MTB gear for all, and after one year of samples and testing, Sendy became a reality.
Have You Been Searching For MTB Shorts for Your Kids?
Sendy offers our customers affordable, high quality products that are not available anywhere else on the market at this price point. We saw the need for durable kid's mountain bike gear, but we did not stop there. We also offer affordable adult mountain bike gear so that the whole family can have fun together, shredding up the bike trails.
Some other things that make us unique include:
Designed and tested on the trails – Our mountain bike gear is designed and tested in Thredbo, in the Australian Snowy Mountains. It is a mountain bike mecca with a range of different bike trails, from beginner to advance. Our products have undergone weeks of testing, showing their durability and comfort when in use.
Affordable – At Sendy, we are able to make our product affordable because we don't deal with a middle person or add any greedy mark-ups. Unlike other products that go to stores, our products use efficient direct marketing to sell products straight to our amazing customers.
Green – Sendy is passionate about preserving the outdoor playground that we love so much, which is why we aim to be as green as possible. We only use ethically responsible manufacturers to manufacture our products as they stick to the strict guidelines in order to adhere to international regulations to remain green. We also use fully compostable postage bags, "Real Dirt Bags," instead of plastic bags, so that we aren't contributing to the amount of plastic waste in the world.
Giving – We also give back so that we can contribute towards a greater future for both our kids and our planet. Sendy does this by donating 1% from each purchase to mountain bike areas where Sendy kids love to ride to help improve them.
Our Kids & Youths Shorts are Tested on the Trails at Thredbo
We offer our customers a range of quality, affordable mountain bike gear, including youth mountain bike gear that isn't affordably catered for anywhere else. All of our products have been designed and tested on the mountain bike trails in Thredbo, so you can trust that they can withstand the rigour of a Sendy shredder. The technical fabrics that are used are quick-dry, breathable, and moisture-wicked to ensure they stay comfortable as you ride.
Our shorts are well designed, and have features that make them perfect for mountain biking. This includes a 4-way stretch so that you can comfortably cycle with no restriction to your movement, zippable side pockets so that you don't lose anything from your pocket, and adjustable super strength Velcro tabs to ensure that your shorts fit correctly and don't slip down. Small but practical features like these have been thought about about because we love to tear down a trail ourselves.
Order the Best Kids MTB Shorts Online
It is easy to purchase your child's new pair of kids MTB shorts online in Australia from Sendy. Browse through our kids MTB clothing including kids MTB jerseys & accessories such as hydration backpacks for kids and look at our handy size guide so that you can be sure they will fit well. You can also check out our range of mountain bike shorts to get a new pair for yourself. If you have any questions for the team, contact us 24/7 via our live chat. Read Less