FREE Aus Shipping on orders over $99

Or flat rate express

FREE Int'l Shipping on orders over $125

Or flat rate express

Zero Concern Returns

Hassle-free returns & exchange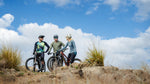 Mens & Womens MTB Jerseys
Mountain Bike Jerseys
When it comes to finding the right gear for your ride, it's important that you choose a company that really knows Mountain Biking in Australia. This means that if you are looking for technically superior products that are made for the trail, you need to work with a company that rides the trail – and that is why we think that you can find the best MTB jerseys in Australia right here with Sendy Gear.  Read More
What Makes Sendy Gear the Best Place for Mountain Bike Jerseys in Australia?
A combination of dry wick and anti-fungal fabric make our MTB jerseys tough enough to endure all mountain conditions, and with a handy rear pocket for a phone, cards, or a lift-pass, they are also useful.
We have spent a long time coming up with designs to use on our jerseys for mountain biking. Of course, we are known to have the best range of MTB jerseys for kids – but we have also created a great range of MTB jerseys for adults so you can shred the trails together!
Our Mountain Biking Jerseys Are Technical, Ethical & Stylish Too!
The technical specification of our mountain bike jerseys is important to us, but so is the way we source all our kit. As a company our heart is in the mountains – it is where we live and where we play, so we want to protect it at all costs. We only work with leading manufacturers who are certified as 'green' – whether organic cotton, Okeo-Tex or Blue Sign certified, we look for those that adhere to the strict guidelines and international regulations.
This dedication to looking after our planet is something that is with us throughout the development of our products. We do not use dangerous or potentially harmful dyes – instead, we use a sublimation printing technique to get the all-over designs that make our mountain bike jerseys so eye-catching.
If you buy from us, not only will you qualify for free shipping throughout Australia and New Zealand when you spend over $80, you will also receive your awesome MTB jerseys (or whatever else you buy) in a brilliant, fully compostable postage bag. Plastic is not fantastic, and our friends at the Better Packaging Co. have provided us with a sustainable way to get our products delivered.
The secret of good design is the attention to detail – not just in terms of technical fabrics, but also in the way we create our designs. Each product has been designed to look as good as it feels – and to perform as well as it catches the eye. Whether you like a simple design like our Neon Punch, or you want to show you love of the Alpine meadows with our Wildflower, there is a perfect design for you and your kids.
Why You Need A Mountain Bike Jersey
Now listen, we know that there's absolutely nothing wrong with throwing on a good ol' t-shirt to hit the trails every once in a while. However, your cotton T's were simply not made to provide the optimum amount of comfort like the best MTB jerseys do.
Think of it kind of like surfing without a wetsuit or a rashie: you're either going to get sunburnt, cold or some sort of rash that will last a couple of days. It's very rare to see surfers hitting the waves without protection and the same should go for riders.
MTB jerseys seem like an added expense to many people and an unnecessary one. We're here to tell you why you should invest in one for yourself, your loved one and your little rippers!
These are just some of the benefits that come with the territory when you invest in a good quality MTB jersey:
Temperature control
Hitting the trails is hard work and if you wear cotton or cotton-poly blends, you're going to be drowning in a puddle of your own sweat at the first uphill. Our mountain bike jerseys at Sendy Gear have been designed and created with your temperature in mind. We use bird's eye poly mesh material and a dry wick process to ensure that you can feel the breeze while you roll.
The bird's eye poly mesh is ideal for airflow—keeping you cool and comfortable—no matter how tired you are. The dry wick process actually pulls moisture off your skin and absorbs it, which means you'll be sweat-free for the duration of your ride. "Won't that sweat stink?", you ask. Listen, we hear you! Luckily for you though, our MTB jerseys also have an in-built anti-fungal fabric which keeps bacteria at bay and means you won't smell like you've been living off the land for a couple of months when you get home.
Cut for comfort
T-shirts simply aren't designed to fit when you're gripping the bars and ripping the downhills. At Sendy Gear, we've designed our jerseys for MTB to ensure that they fit riders like a glove. A broader cut at the shoulders and sleeves is perfect for leaning over your bars comfortably and a drop hem at the back keeps you covered now matter how hard you are sending it. What's more, there's generally enough room in our shirts for any protective gear that you need to pop on too!
They look cool
Okay, okay. We're being a bit biased here, but we truly believe that we have the best looking MTB jerseys in Australia, whether you're looking for a long sleeved MTB jersey for adults or a kids MTB long sleeved jersey. We also have a great range of MTB jerseys for men and women! Have you checked out our designs? There's something for everyone! Whether you're a straightforward person looking for something plain and practical or you like to add a bit of style to hit the slopes—we've got what you're after! With us, you can look good and feel comfortable all at the same time.
Your One-Stop Shop for MTB Jerseys in Australia

We know Sendy Gear is the best in Australia because we love the outdoors. Jono, our founder, has spent 20+ years as a successful pro athlete – in fact, he is a two-time Winter Olympian – so the mountains are home to him. The mountain biking mecca that is Thredbo is where we design and test all our products – and that is where Jono and his family spend their time, skiing in the winter, and shredding some of the most beautiful trails in the world in the summer.
Jono's love for the environment is evident in the care taken to source materials, and his love for the trails is evident in the products created to ride them.
Sendy Gear is made for the trails – and if you love the outdoors and tearing up and down the mountains on your favourite pushy, then Sendy Gear is your number one choice for MTB jerseys in Australia. We also stock a great range of kids MTB jerseys, MTB shorts, padded MTB shorts, MTB knee pads & MTB gear in Australia. Shop with us today and get ready to tear up those trails.