FREE Aus Shipping on orders over $99

Or flat rate express

FREE Int'l Shipping on orders over $125

Or flat rate express

Zero Concern Returns

Hassle-free returns & exchange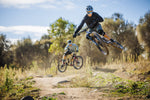 Adults Long Sleeve MTB Jerseys
Long Sleeve Mountain Bike Jerseys
Whether you are new to the trails or a seasoned shredder, you will understand that it is so important to wear the best clothing. We love how cool our short-sleeved jerseys are, but when you are tearing up a trail, thrills and spills mean that sometimes it is a better idea to wear a long-sleeved mountain bike jersey. Read More
The Long-Sleeve Mountain Bike Jersey From Sendy Gear
Sendy Gear have a whole range of deliciously designed, eye-catching and incredible MTB clothing in Australia that is made for you. Our heart is in the mountains, and Jono, our founder, spends time with his family outside whenever he can – whether that is skiing in the winter, or biking in the summer, outside is always best. However, on moving back to the beautiful snowy mountains of Australia, Jono soon realised that there weren't any companies that were creating MTB clothing for kids – and that is why Sendy Gear was created.
Now, we make everything from long sleeve MTB jerseys to MTB protective gear, hydration options and even socks and MTB gloves. Sendy Gear is your one-stop shop for all your clothing before you take on the mountain.
Functional & Good-Looking Jerseys
When you choose Sendy Gear for your long-sleeve MTB jersey, you are not only getting your hands on technically brilliant, eye-catching gear, you are also supporting a local Australian business. Sendy Gear has been made to endure all mountain conditions because each product has been designed and tested in our home in Thredbo, the premier destination for skiing, hiking, and biking in the heart of Australia's snowy mountains.
Whether you enjoy an eye-catching monochrome print like Shred Forest, or you have the confidence and style for the Wildflower, all our long sleeve MTB jerseys are made from breathable, moisture wicking, anti-fungal fabric. Made to make it easy for you to wear, they have a rear pocket designed for a phone, cards, or a lift-pass, keeping your hands and your pockets free for a more comfortable ride.
The long sleeves protect your arms from the sun, from plants and rocks, and are an added layer of protection if you take a spill. Available in adult and kids sizes, you can rely on our technology to make your ride better, and you can count on our designs to make sure you look cool out on the trails, too.
Why Choose A Sendy Gear Long Sleeved Jersey for Mountain Biking?
Listen, we know how many companies are out there selling long sleeve MTB jerseys in Australia. So why should you choose Sendy Gear, in particular, to kit out the riders in your family? We're going to go ahead and tell you why we are the best company to get a long sleeve mountain bike jersey and other MTB gear from!
Having grown up in Thredbo, NSW—our founder Jono knows the mountains and outdoors like the back of his hand. Plying his trade as a pro athlete for 20+ years means that he brings a wealth of experience to the table. We believe that you should buy gear from people that know gear. Our love of nature and the trails that crisscross the Australian mountain ranges put us in prime position to create kit that doesn't just look good, but that is also highly functional, comfortable and stylish too.
Buy Our High Quality Long Sleeve Mountain Bike Jerseys At An Affordable Price
Have a look at any of the big outdoor sporting brands and what do you see? Incredible gear, sure, but you'll also notice the price tag to match. At Sendy Gear, we produce high-quality MTB gear and MTB clothing in Australia for athletes and riders alike that stand the test and are affordable for everyone. MTB isn't just a sport for the elite, and we believe that giving a wider range of people the opportunity to buy high-quality gear, such as our long sleeve mountain bike jerseys can only be good for the sport that we love so much.
Wide Range Of Styles
We know that you're here to look at our long sleeve jerseys for mountain biking and you'll notice that we don't just have one to choose from. We are incredibly proud of the wide range of MTB gear that we offer our customers, with heaps of styles, colours, and more to decide from. We're a one-stop-shop for almost all things MTB. Whether you're looking for MTB jerseys for adults or kids MTB jerseys, we have the right product for everyone.
Ease Of Purchase & Customer Service
As people that are more comfortable outdoors than inside, we know just how frustrating it can be to buy something when the website is hard to navigate. We knew that if our clients wanted to buy something like a long sleeve mountain bike jersey online that we had to make the process as quick and easy as possible. That's exactly what we did, just check out our Quick Order Form that helps you purchase all your gear in just a few minutes. What's more is that at Sendy Gear, you'll find some of the friendliest, most helpful people on board to get you what you are looking for. Our team is made up of real gems and they will always go the extra mile to help you out when you need them.
We Care About The Environment
As avid outdoors lovers—it was always important to us that we looked after the world that has given us so much beauty and joy. That's why we use green technology wherever we can and partner up with sustainable companies like the Better Packaging Co. who provide our fully compostable postage bag. Plastic certainly is not fantastic, and we want to leave as small a footprint on our planet as we possibly can.
Shop Long Sleeve MTB Jerseys Online To Get Easy Shipping & Returns
We offer free shipping on orders over $80 throughout Australia and New Zealand. We also ship internationally - $125 minimum spend gets you free international delivery through Australia Post – it couldn't be easier to buy from us.
We have a comprehensive size guide available on our site, but if you have any questions regarding sizing then don't hesitate to call us – we are always happy to help. If you do purchase something from our site and you are not happy, we will do our best to help with our 'no concern' returns policy. Simply send us the product back within 30 days of delivery, in its original condition, unworn and with tags still attached, and we will organise an exchange. You cover the costs of posting to us, and we will send your replacement free of charge.
If the product you receive is faulty or damaged, we will cover the return postage for you.
Here at Sendy Gear, we want the only complicated decision you must make to be choosing which design of long sleeve mountain biking jersey you want first – so we make everything else as simple as possible.
Get out and shred those trails with Sendy Gear. Read Less