FREE Aus Shipping on orders over $99

Or flat rate express

FREE Int'l Shipping on orders over $125

Or flat rate express

Zero Concern Returns

Hassle-free returns & exchange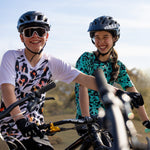 Kids
Shop our super sweet range of kids MTB gear and get ready to send it. D
esigned for kids who go hard on their mountain bikes, we know you live to ride your bike, so we have created children's mountain bike gear to suit your Sendy lifestyle. Whether you are cycling to school or bustin' down a rad trail on your mountain bike. Read More
Kids Mountain Bike Clothing
Created for kids who love to tear up the trails on their favourite pushy, Sendy Gear have a collection of the best kids MTB clothing – because we created it for kids. Our founder, Jono, is a two-time Winter Olympian and loves spending time outdoors with his family – in the winter, skiing, and in the summer, biking.
The outdoors family life is what germinated the idea of Sendy Clothing. Looking for affordable, comfortable, and technical clothing for kids who want to shred the mountain trails, Jono was dismayed that there just wasn't anything specifically designed for kids who were serious about their biking. This idea became Sendy Gear, and now we create all kinds of kids MTB clothing for Australia and beyond.
Style and Substance – Technically Perfect Kids MTB Clothing
When designing our range for kids, we know that parents are looking for safety and technical wear. As parents ourselves, we know the unique balance that comes from allowing your child to take part in physical activities that could be dangerous – so finding clothing and protection that gives you peace of mind is important.
That is why, all our kids MTB clothing is made from the best technical material – moisture wicking and breathable, with sublimated printing rather than dangerous dyes.
For the kids, we know that style must be on point. That is why we have a range of designs to suit all tastes – and your kid can look cool while remaining as safe as possible whether they are just learning to shred, or they are already the king of the trail.
With so much kids MTB clothing to choose from, Sendy Gear is your one-stop shop to get your kids kitted out before they take on their next trail.
Sendy Gear – the Number One Choice for Kids Mountain Bike Clothing
Sendy Gear is your one-stop shop for the best kids MTB clothing in Australia. From kids MTB jerseys that are practical and stylish to kids MTB shorts that have all the features, kids MTB gloves and protective equipment, socks, kids hydration packs and even a casual range – you will find exactly what you need right here.
Sendy Gear makes it easy for you to shop in confidence using the PCI-compliant Shopify platform that accepts payment from VISA, Mastercard and AMEX, or you can choose to use PayPal. We offer free standard shipping via Australia Post to Australia and New Zealand for orders over $80, and internationally for orders over $125. If you change your mind, or would like an exchange, we are happy to help – just fill in our handy form and post back to us so we can sort you out.
Everything Your Kid Needs to Shred Those Trails
Sendy Gear are dedicated to helping you enjoy mountain biking wherever you are – and with our range of adult-sized mountain bike clothing available, you can tear up the trails together in matching gear! What better way to get some much-needed outdoor family time than on the back of a mountain bike as a family, all wearing the absolute best in technical MTB clothing.
Shop with us today and get ready to tear up those trails with the best kids MTB clothing in Australia.